Social media is quickly becoming one of the most crucial digital marketing aspects, which offers enormous benefits to help reach millions of customers worldwide. By applying this profitable source, you would not miss an incredible marketing opportunity, as you can easily spread the word about your products and services.
In Pakistan, the popularity of social media marketing is gradually prevailing and it is considered a key driver that skyrocket your online sales and digital marketing strategies.
With that being said, it is certain that social media is tremendously changing digital marketing landscape throughout the world. With improved results and stats, comprehensible advertising parameters and continuous growth in customer base, social media simply deserve the highest contemplation under your digital marketing budget. It is also important to mention that, Pakistan has now surpassed Australia, Spain, Canada, Australia and South Korea in the digital marketing industry.
Regardless of this huge popularity, there are still thousands of digital marketing experts in Pakistan who aren't sure which strategies could help them generate a high return on investment. There are more than 50 million small-sized businesses across the world that want to connect with their users through Facebook Pages (the figure is continued to increase).
Some interesting facts & stats of Pakistan's digital marketing growth in 2018:
So here comes some amazing digital and social media marketing stats from Pakistan in 2018 that will motivate you to build a solid digital marketing strategy for 2019 and onwards.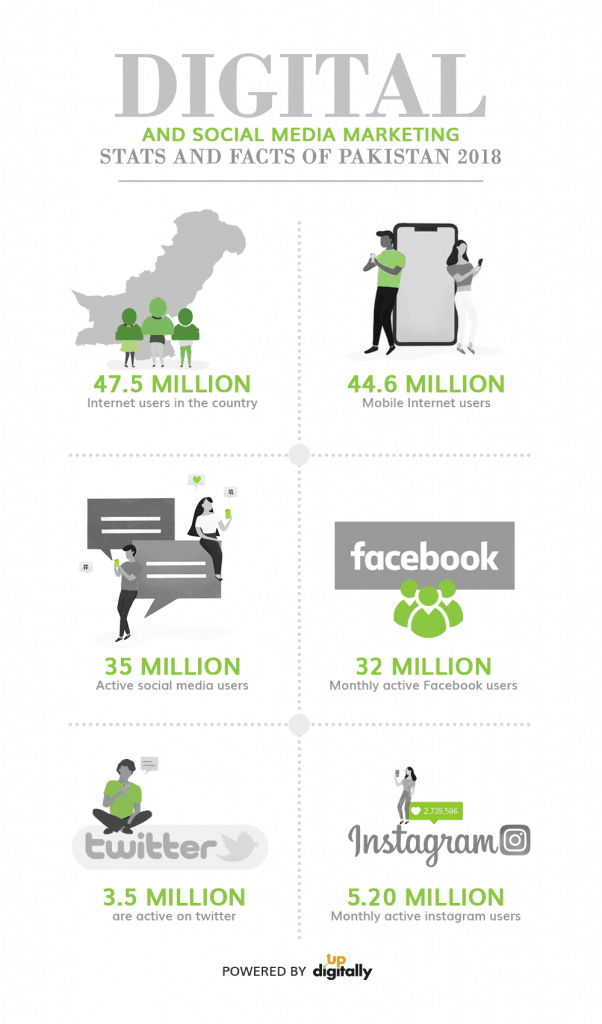 The above infographic shows the complete stat results of Pakistan's population and the number of people who are active on the internet, mobile and social media. The purpose is to show how much of the total population is active on social media and how much influence we can possibly create by approaching people on social media.
Pakistan's total number of population is 198.9 million, and average urbanization(people who are more focused to use the internet in cities) is 40%
There are 47.5 million internet users have been estimated in the country, in which 22% are more penetrated to use the internet.
Pakistan has 44.6 million mobile internet users, in which 16% are more penetrated.
According to an estimate, out of 109.5 million mobile users, there are 32 Million populations are accessing social media using mobiles. And overall penetration rate is 55%.
There are 8 million mobile users who are active on social media.
Among the total population, 82% population is mobile users.
31% population is using smartphones.
10% people use a laptop or a computer, while, only 1% has tablet computers.
On daily basis, there are at least 58% of people make use of the Internet.
According to estimates, 31% people use the internet once a week,
And only 8% of people use the internet once a month
71% people access the internet using their smartphone, and only 8% use them through the desktop.
According to the weekly report analysis, there are only 7% of people who tend to use a search engine using their smartphone and only 1% use through computers.
Research says, 12% people use social network sites using their mobile phone and 2% on a computer once a week.
There are 25% populations prefer to watch online videos every day, and 22% users watch online videos on weekly basis.
There are 32 million users calculated who are active on Facebook on monthly basis.
91% people use Facebook using their smartphone.
77% population is male, and 23% is female users on Facebook.
An average engagement rate was calculated by only 4% on Facebook Page Posts.
An average engagement rate on Facebook Video Posts is 27%.
The average engagement rate on Facebook Photo Posts is 28%.
Dzire is considered as the most popular brand on Facebook which has maximum fans interaction.
Pakistan has 5.20 million monthly active users of Instagram.
There are 5 Million people who are actively using Twitter.
According to an analysis, 69% population is male and 31% is female on Instagram.
Result says, 4% of female and 3% of male tend to make online payments in Pakistan.
Imran Khan is a most popular person who is followed by 7,706,080 people on Twitter.
A popular Pakistani singer Atif Aslam has the largest audience on Facebook with a total of 20,097,972 fans as of February.
Pakistani Journalist Hamid Mir has the 3rd largest fan following on Twitter with 4,734,545 followers.
Pakistani channel ARY Digital has won the largest audience reached 1,412,531,392 views on YouTube.
All these stat results have shown that you have a lot to do in the digital marketing sector as compared to some of the developed countries in the world. It's important to create awareness about the efficient use of social media. We also need to understand that is a wide horizon people have on the social media. But most of the population is using it for time pass and social connectivity, whereas a true essence and influence are still overlooked.